Hi All,
I work on Drupal 3 weeks ago, I am beginner.
Today i'm trying to change the menu « Tool » of the cern theme.
I would like a horizontal menu dropdown like main menu.
I have several categories and I would like the user not to have returned to the main menu each time he wants to access another category.
I would like to reproduce the hazard menu of my main menu in a block if possible.
Is there any other type of horizontal menu than the one proposed by "Tools" in the Menu category (Home -> Administration -> Structure -> Menus) ?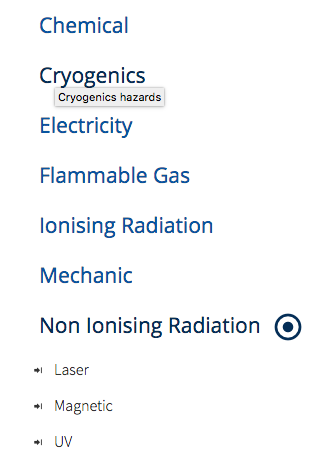 I don't know why there are a circle a the end of « Non Ionising Radaition » and why the submenu are very different to the rest of the menu.
When I click on « Laser » for exemple, like the background is white, the submenu is hidden.
Url:
https://test-2-ep-th-safety.web.cern.ch/hazards/chemical
Your help would be greatly appreciated.
Many thanks