Receiving "File upload error. Could not move uploaded file." when uploading images to https://knowledgetransfer.web.cern.ch
Can you please help?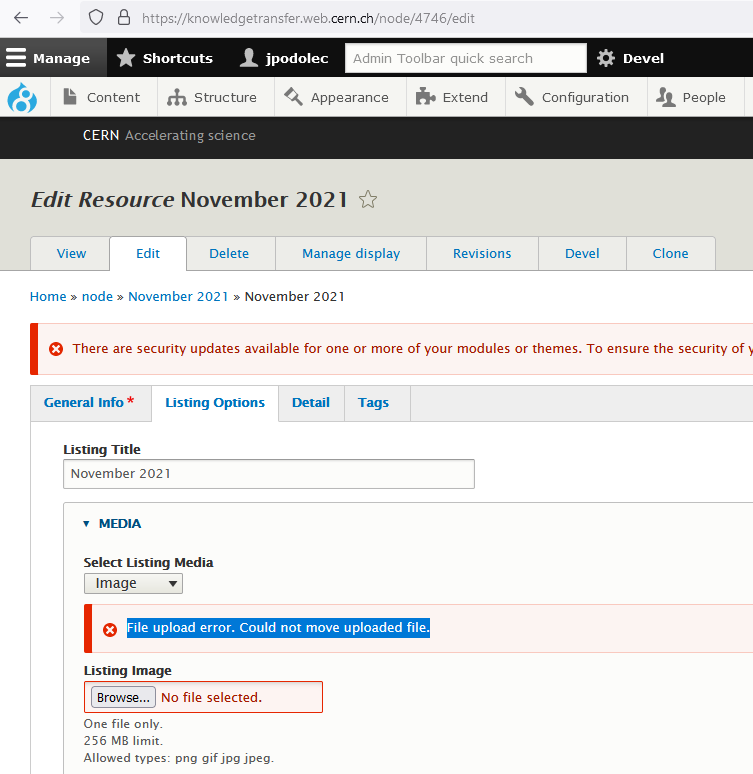 Hi Jozef
Thanks for reaching out!
This is unfortunately a known problem caused by the temporary filesystem on the new infrastructure.
We are aware of the issues this is causing, and are working diligently on a solution.
We appreciate your continued patience!
Thanks!
Thanks for your reply Joachim.
Can it be fixed anytime soon? Knowledge Transfer group needs to publish some important information this week.
Hi again
I am afraid I cannot promise that we will have it sorted this week. We are actively working on the issue, but as it relates to the infrastructure itself, it ultimately takes longer than merely changing a variable in your Drupal configuration. However, as noted in my prior post, this is a known problem and, as you have confirmed yourself, something which affects multiple websites.
Thanks!
Hi Jozef
Thanks for the additional information; very helpful!
Thanks!
Hi Joachim, any update on the progress I could pass on the Knowledge transfer team?
Hi Joachim, any news about the KT site?
Yesterday was also reported an incident with login to the KT site (INC3053794), not sure if related to the infrastructure problem.
Hi Jozef
I am sorry for keeping you waiting on this one.
It is unfortunately out of my hands, but my colleagues and I are keenly aware of the issue.
I will follow-up with the relevant people tomorrow and send you an e-mail directly.
Thanks for your continued patience!
Hi Joachim,
coming back to this issue, users informed me that the problem was fixed some time ago, but now reappeared again. Can you please check?
Another related question, can we work on preparation to the Drupal 9 migration for this website or do we need to wait for confirmation all KT website infrastructure problems have been resolved?
Cheers,
Jozef
Hi Jozef
This problem indeed appears to have re-surfaced.
I am flagging this for review internally.
Sorry for the inconvenience!