Hi,
During the last Drupal hackathon @kplatis showed me what had been done on the CERN Open Days website with the map and button hover it (see image below). It seems that in order to replicate this display the module CERN H5P Interactive Content must be installed. So i did

My issue now is : how to insert H5P content in a landing page ?
I checked the documentation of the H5P Module, but didn't manage to insert this content in the landing page content type.
Here is what i did :
Inserted a new Paragraph type (Structure -> Paragraph types -> Add new) and inserted a field of type H5P.
I trying to add a new section on a landing page and see if i could get some H5P content
It didn't work.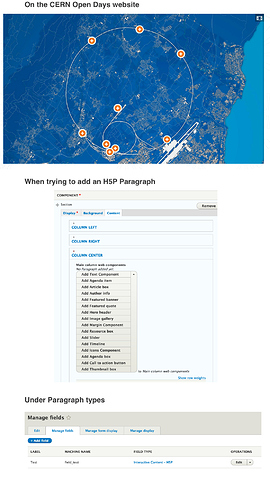 I also tried to simply create a new content type and add an H5P field. This worked but i then get a list of content type to install (Multiple Choice, Fill in the Blanks …).
Do you guys have any experience with the CERN H5P Interactive Content module ?
Thanks a lot.
Maxime