Hi all,
1. Image Style in View
I have a view with people in which they all should have the same image style. I created one called 'people'. When I look at it in the view configuration, it's fine and works. When I integrate it in a Landing Page section the pictures are different in size again. Is there something I need to specifically change for it to work?
I have changed the image style in the configuration of the field that is added to the view.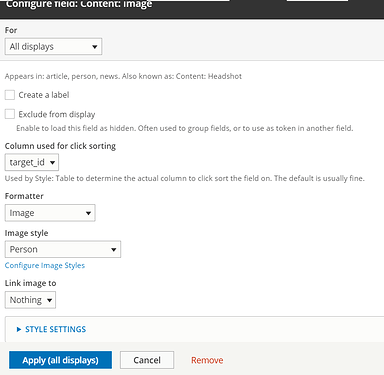 2. Image Style in News Full Content Pattern
Next Image Style which I have created is called 'news' for an image field which I am displaying as the image in the news full content pattern. It doesn't work. Pictures are still original size. See example here.
I have changed the image style in the manage display configuration of the content type in full display mode.


---
I guess my questions lead to the correct configuration of image styles in views and content types?
Thanks,
Nadine