Hi there,
Here i come with some more question

I wondered if there is a way to display a field in a content type form when a checkbox is ticked.
My goal is the following :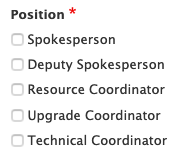 I would like to display a field to know the start/end date next to the position that the user will check.
Do you guys know if there is a way to do so ?
Many thanks,
Maxime